Talent by Jelly
Adam Butcher
Presenter, MC, and tech reviewer – there's not a lot Mr Butcher can't do.
About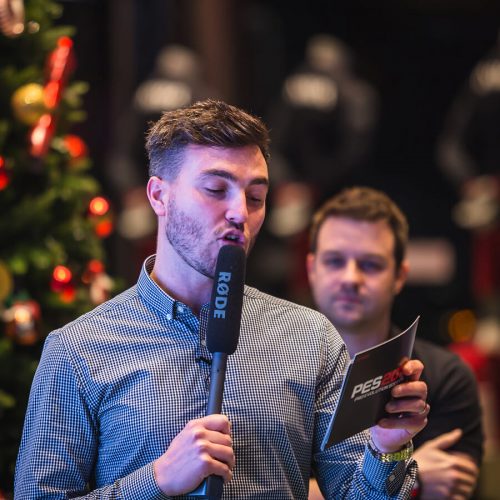 Who?
Alongside his growing YouTube channel which provides real-life reviews of consumer technology and products; Adam uses his professional delivery and engaging mannerisms for hosting live broadcasts, MC-ing events, and commentating on football matches (both live and video games).
Adam has been the European face of PES League's events and broadcasts; Adam has represented PES League since 2016.
Social
Projects
PES League 2016 - UK Finals
PES League 2016 UK Finals was held at the Gadget Show Live in Birmingham.
Adam hosted a live-stream of the UK tournament which included interviews with players and live score updates.  He also co-hosted the Gadget Show esports stage for the Final match providing live commentary and trophy presentation.
PES League 2016 World Finals
The PES League 2016 World Finals were held during the UEFA Champions League (UCL) Finals and Festival in Milan, Italy.
Adam provided live-broadcast tournament coverage including interaction with the audiences tuning in, interviews and live score updates.
Adam was also MC and live commentator for the final held on the UCL Festival Stage, building an atmosphere, engaging with the growing crowd and presenting the prizes on stage.
PES League 2017 Regional Finals @ FC Barcelona
The first Regional Finals for the PES League 2017 season was held at the prestigious stadium, Camp Nou.
Adam, a seasoned PES host, was able to exercise his understanding of the esports season and the game itself.  Engaging with the players off-screen, Adam built an excellent rapport which personalised his delivery per match he commentated on.
PES League 2017 World Finals
PES League 2017 World Finals was held exclusively at the Emirates Stadium, London.
Adam appeared as a PES expert and lead commentator of matches played on the broadcast.  His in-depth knowledge of the game and the players demonstrates his understanding of the role.
UEFA Champions League 2017 Festival @ Cardiff
Adam's presence on the stage is engaging and generates a participating audience regardless of the title.
For the UCL Finals Festival in Cardiff, Adam rallied technical glitches and the rain to keep his audience engaged and growing.
LFC All Star Christmas Cup
Requested by Liverpool FC directly, Adam was the obvious first choice for playing the role of MC and commentator for the All Star Christmas Cup.
The event was an evening-long activation bringing together influencers, LFC fan-sites, Fans and winners from a previous community initiative tournament, Red Neighbours.
Adam's charisma and down-to-earth approach meant he was able to put nervous participants and professional footballers at ease with no visible effort.